Casual Chic
This home was a typical center hall colonial. The client, a young family, wanted a home that better suited their lifestyle. They wanted a lighter, airy feeling, with contemporary elements and a casual elegance. We reorganized the flow of the space so that they would use all of the space rather than just a few rooms. We combined both existing and new furnishings to create an updated look.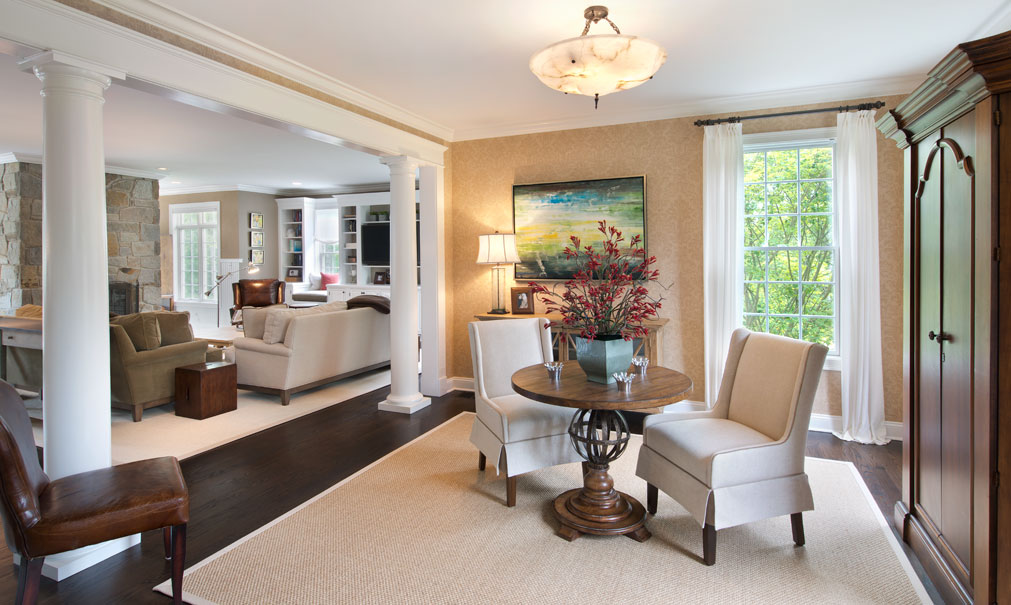 Parlor
Now the entry opens into an airy parlor. We used shades of grays and taupes throughout the first floor, with pops of bright color in the artwork.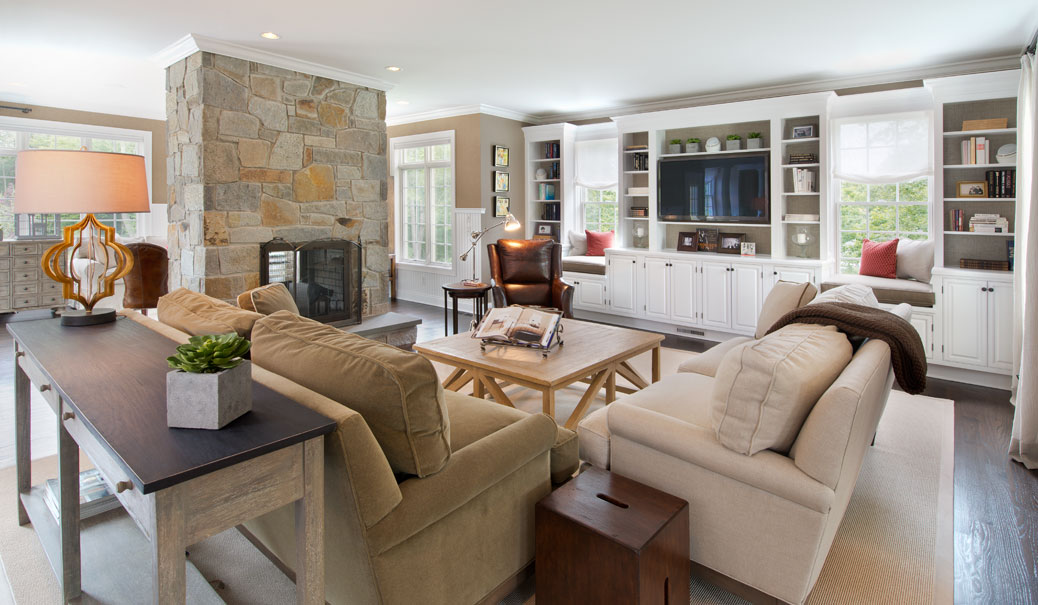 Family Room
The family room serves as a comfortable area to relax in. The gray and taupe color palette was chosen to work with the beautiful field stone fireplace. Washed woods, zinc top furniture and distressed leather echo the fireplace colors. Wispy sheer shades enhance the airy feeling.
Sunroom
The sunroom now has dual roles with the addition of the bar. We also added the bead board and a textured basket weave wallpaper to create a more casual look. The cow hide rug and the slipcovered sofa with the red ball pillow create a lighthearted feeling for the room.
Kitchen Eating Area
We added a coffered ceiling to delineate the dining space, and columned walls to create a transition into the kitchen. With young boys in the house, we selected leather chairs and a rugged farm style table to make life easier on mom and dad. The pre-existing rug was worked in. Note the illuminated frosted glass door for the new pantry .
Kitchen
In the kitchen we reused the existing cherry cabinets and replaced the countertops and back splash with continuous slabs of Carrara marble. We redesigned the island making it just one level and repainted the cabinets underneath. It gave the kitchen a big facelift without redoing everything.
 
Kitchen
We found wonderful wrought iron glass lanterns to hang above the table and serve as the focal point in the room. Columns with partitioned walls were added to delineate the kitchen and dining spaces.
From Powder Room to Parlor: Old & New, Light & Airy, Casual & Chic
The powder room was a lot of fun. We were able to use an existing piece of furniture for the vanity. We added brass feet to get the right height, a quartz top, and a Carrara bowl. It is now a "one of a kind", and looks great in the space. We used the old kitchen light fixture and added bead board to the walls with a beautiful mirror and some glistening grasscloth. The room really pulled together.
This house was all about the style of the furnishings. We combined old & new, light & airy, casual & chic to create a unique environment.